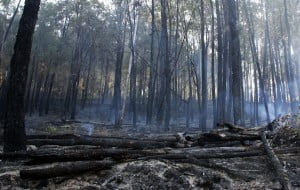 During the Black Saturday bush fires I volunteered my time as a pastoral carer/chaplain at the Whittlesea Relief Centre for those affected by the King Lake fires. (You can read about my experience here.)
There were lots of volunteers that day. Some were cooking food, others were serving drinks. Some were sorting through mountains of donated goods. Some were helping survivors contact relatives. Some were a shoulder to cry on.
So many people continue to be affected by what happened over those horrible few days. Residents in NSW are facing a similar scenario as I type this. The story is replayed every summer somewhere in our country. In the days that followed Black Saturday I was asked numerous times what people could do to help. The question came often in those first few days, but slowly the frequency dropped and now it's been well over two years since anybody has asked.
Yet, the need is as great as it has ever been. Trauma doesn't disappear. It lurks and lingers. It encourages other mental health conditions to take hold. It makes keeping a job hard. It makes relationships even harder.
Our brothers and sisters that survive natural disasters like these need help and support for years.
And somebody like you can offer much of that help.
Professional counsellors, psychologists and medical staff are important, but they can never take the place of a community of caring, supporting people.
The Mental Health Social Support course that I have been running at various times through 2013 equips people to identify and support those in their community that are struggling with a mental health problems. It gives the skills to offer initial support and plugs participants into a network to access professional help should it be required. Participants that successfully complete the assessment can claim professional development points if they belong to the appropriate professional bodies, plus they gain access to a wealth of resource material offered by the Australian Institute of Professional Counsellors.
But perhaps most importantly for people that live in a country like ours, successful completion enables you to list your self on the National Register of Mental Health Social Supporters. Should a disaster or major accident happen in your area, listing yourself on the register means you can be called on to offer social support in disaster zones and relief centres.
It might not seem like much, but MHSS trained people can often offer the ongoing support that is required once the initial attention has faded away.
There's only one remaining MHSS Course for 2103 and places are limited to twelve (down from the usual 15). Three have been taken already, so if this is a course that you have considered doing, now is your chance.
The course will be held on Thursday 28th and Friday 29th November, 9:30am – 4:30pm , in the seminar room at East Doncaster Baptist Church.
For more information on the course content, take a look at this previous post.
And to book, please visit the registration page.